The following is a review in the Univ. Miami Medical Journal of Betty's Book, published in 2000.

t has been over a decade since Betty Kjelson had second- and third-degree burns over 25 percent of her body. Ironically, she was performing her greatest creative skill—making paper from subtropical plants for her art— when burned by boiling water needed for the process.
Eleven years later, Kjelson has come full circle in recovery, both physically and emotionally, with the publication of Betty's Book: A Journey from Pain to Recovery. Gil Ward, M.D., medical director of the University of Miami/Jackson Memorial Burn Center, wrote both the foreword and closing of the book.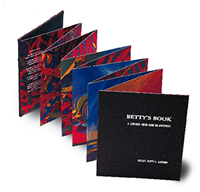 "All patients go through a process of internalizing and coming to grips with their injuries," Dr. Ward says. "Burn patients are challenged to the core, and the psychological recovery can be as painful and difficult as the physical one."
It was through one of those painful ordeals, twice-daily dressing changes to raw wounds, that Kjelson first experienced the "colors" that eventually became the pages in her book. The unique hardback contains a colorful, moving set of interconnected paintings that represent the evolution from pain to physical recovery, which Kjelson endured throughout a two-and-one-half-month hospital stay, followed by years of outpatient treatment. Designed accordion-style, the book can be read frontward as well as backward.
Kjelson thought she had finished the book a few years ago, but Dr. Ward thought otherwise. He said that her body was ahead of her mind and that her version of "finished" work didn't yet express "a psychological conclusion."
Initially, yellows appear stabbing, representing pain. But by the end of Kjelson's journey, yellow takes on a healing sensation of sunlight, and the design patterns transform into breaking waves. In describing this final image of the book, Dr. Ward says, "There is peace and a freshness known only at the end of a storm."
The UM/JM Burn Center underwrote the publication of Betty's Book, and copies of the limited edition are presented to major donors.